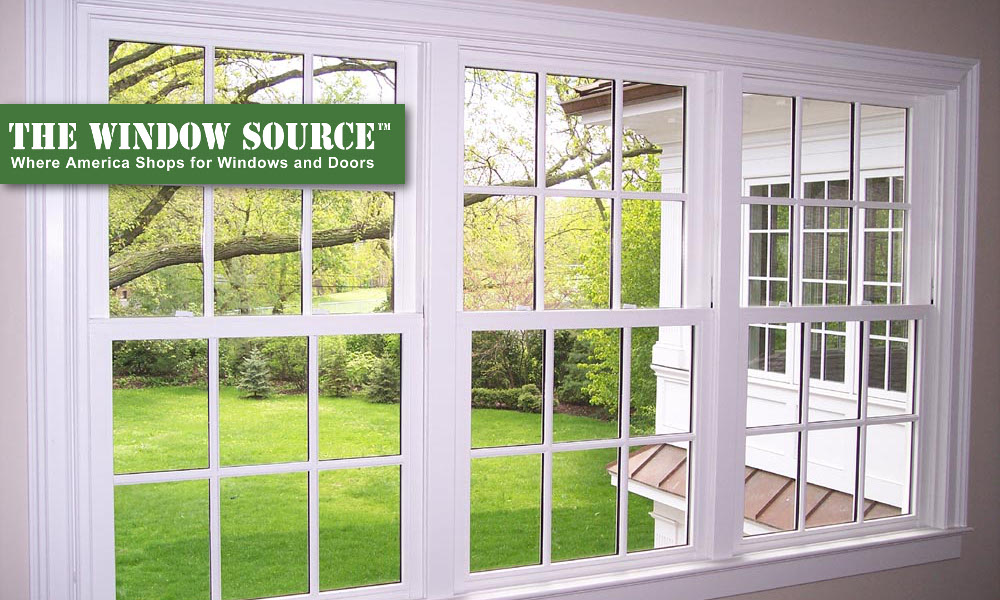 Note: Product features subject to change. Please be sure to check with your sales representative on the most up-to-date & accurate product information.
Double-Hung Replacement Windows
Double-hung replacement windows are the most common window in modern homes. Double hung windows are easy to operate, easy to maintain, they look great, they let a lot of light in, and they are a winning option for any home.
What Are Good & Great Double Hung Windows?
When you walk by your windows in the winter, do you get cold? A good window prevents heat loss and helps to maintain the climate in your house. A great window is so thick, well designed, and insulated that heat exchange is brought to a minimum.
Is It Cheaper To Buy Better?
YES! It costs you LESS money to buy BETTER windows.
How?
A cheaper window insulates less. You pay to heat and cool your home every month. Over time, the $10 – $60 extra on monthly utilities adds up.
Here at The Window Source we offer affordable, energy efficient (NFRC-Rated), and high quality double hung replacement windows. If you live in Allen County, call us today. Your house will look beautiful and you will experience the savings and comfortable indoor climate all year round.
Standard Window Features
Our Window Source double hung windows come standard with the following:
Fusion Welded Sashes & Master Frame With Full 3¼ Inch Depth
All Sash And Frame Members Are Made With Low Maintenance Premium Virgin Vinyl That Will Not Crack, Chip, Peel Or Warp (No Regrind)
Multi-chambered Frame Construction To Add Strength And Thermal Efficiency
Clear 7/8 Inch Double Insulated Glass
Warm Edge Spacer Technology
Extruded Lift Rails With No Mechanical Fasteners That Could Work Loose
Interlocking Meeting Rail For A Tight Seal Between Sashes
Top And Bottom Sashes Tilt In For Easy Cleaning
Sturdy Cam-action Locks Pull Sashes Tightly Together
Welded True Sloped Sill Drains To Exterior
Interior Balance System Covers
Double Cam-action Locks (In Units Over 25 Inches Wide)
Dual Vent Latches For More Secure Ventilation
Fin Seal Weather-stripping Throughout
Custom Made To Fit Your Openings
Heavy Duty Screens With Metal Reinforced Corners
Optional Enhancements Available:
We Have High Performance Glass Options That Meet And Exceed Energy Star Criteria In Every Climate Zone.
Full Screen To Provide Ventilation And Keep Bugs Out (1/2 Screen Standard On Dh & Sliders).
Flat, Contoured Or Etched Decorative Grids.
Beige (Camel) Vinyl
4 Woodgrains And 9 Custom Exterior Colors .
Obscure Privacy Glass
Advanced Ez Clean Glass Coating
Sound Control Glass
The Model 3000 Series
Includes All Standard Features
Double Pane, Single Strength Glass
Available in White & Beige
The Model 6000 Series
Our Model 6000 is our Most Popular double hung window. The model 6000 series includes all Standard Features, plus:
Double Pane, Double Strength Glass
Heavy Duty Contoured Frame
Low Profile Top Sash
Interior Glazing Strips
Upgraded Tilt-in Latches
Glass Breakage Protection Available
Continuous Interlocking Meeting Rail
Decorative Interior Shadow-line
Upgraded Limited Lifetime Warranty
Available In White, Beige, & Nine Exterior Colors
The Model 9000 Series
The Model 9000 is our Highest Performance model. This model series includes all Standard Features & 6000 Series
Features, plus:
Recessed Cam-action Locks
Heavy Duty Foam Filled Frames
Rounded And Miter-Cut Interior Glazing Strips
Upgraded Balance System Covers
Decorative Exterior Molding
Optional EnergyTek Spacer System
Low-Profile Top & Bottom Sash
Florida Approved DP-50 In Some Sizes With Optional Fiberglass Reinforced Meeting Rails And Foam Filled Sash.
Available In White, Beige, Nine Exterior Colors & Four Woodgrains
Call us today for your free estimate!
Budget Friendly
Most Popular
Premium Select
Budget Friendly

Most Popular

Premium Select

The 3000 Series Double-Hung Windows

Read more

Are you looking to upgrade the windows in your family's home? Our entry level energy efficient window, the Series 3000, is a perfect way for you to improve the look and feel of your home at an affordable rate. E.g. Even our entry-level line includes fusion-welded frames on all sash and mainframe corner joints while many competitor entry-level windows have mechanically fastened joints that can work loose over time.

The 6000 Series Double-Hung Windows

Read more

You don't have to sacrifice on quality if you're working with a limited budget on your replacement window project. Our 6000 Series Double-hung Window line has all of the essential features of an energy efficient replacement window.

The 9000 Series Double-Hung Windows

Read more

The 9000 Series is our highest performance window line. The triple glass and foam wrapped frames give you the ultimate in comfort and energy savings. The triple pane 9000 series features two coatings of high performance LowE and two chambers of Argon gas fill. The result is a highly efficient replacement window with an incredible NFRC U-factor of .22. With the 9000 series you'll be prepared for ever rising energy prices. We have seen similar products offered for more than twice as much. Why pay more?

Features

Multi-chambered 3.25" vinyl frames

✔

✔

✔

Fusion-welded sashes and mainframes

✔

✔

✔

Double-insulated glass

✔

✔

✔

Both top and bottom sashes tilt in for cleaning

✔

✔

✔

Sloped sill

✔

✔

✔

Composite reinforced interlocking meeting rail

✔

✔

✔

Warm edge spacer system

✔

✔

✔

Foam wrapped frames resist heat and cold transfer

✔

✔

✔

Energy efficient

✔

✔

✔

NFRC U-Factor of

28

27

22

Double strength glass

✔

✔

✔

Energy Star certified

✔

✔

✔

100% Transferable Lifetime Warranty

✔

✔

✔

Foam Filled Enhanced Cavities

✔

✔

Tax credit eligible

✔

✔

Extruded aluminum half screens

✔

More strength

✔

Composite reinforced interlocking meeting rail

✔

A true slope welded sill

✔

7/8" triple pane insulated glass

✔

Two layers of LowE/Argon

✔

Extra heavy duty beveled frames

✔